Doberman Puppies for sale in pune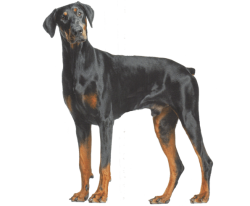 About Doberman Puppy

-

Price In Pune

"The world would be a nicer place if everyone had the ability to love as unconditionally as a dog."

The quote by M.K. Clinton is the reason why dogs are such highly preferred pets. Who wouldn't want a furry friend as a constant companion, guard and the best of friends?

When it comes to having pets, Doberman is a significantly preferred breed. Owing to its beautiful look, friendly nature and strong guarding nature, Doberman pinschers are always in demand for pets.

If you too are willing to pet a beautiful Doberman, Doggywala is here to help you. We have an array of Doberman puppies for sale at the best price, giving you multiple options to choose your furry friend. Whether you want to buy a puppy for yourself or gift them to your loved ones, Doggywala is the one-stop solution for all your needs.
Breed Name
Doberman
Origin
Germany
Breed Group
working Group
Height
26 - 28 inches (66 - 72 cm)
Weight
Male: 40 - 45 kg
Female: 32 - 35 kg
Lifespan
10 - 13 Years
Temperament
Obedient Loyal Intelligent, Kid Friendly, Confident
Moderately
Highly
Price
15, 000 - 60, 000
We assure that, you will get best deal for the puppies you love to pet. Please Connect - 9823214651
In terms of the Doberman price in India, we ensure that you will get the puppies at a highly affordable rate. From briefing you about the food habits of the puppies to providing vaccination details, we will help you every step of the way. All you need to do is make up your mind about having adorable Doberman puppies at your place (which is frankly not that difficult)!
However, before going any further, let's get your basics about the breed of Doberman clear.
Everything You Need To Know About Doberman Puppies
Doberman, also known as Doberman pinscher, is originally a German breed that is believed to be a mix of multiple breeds, such as Black and Tan Terrier, Rottweiler and German Pinscher.
Doberman pinschers sport a sleek coat, have an athletic build and look almost aristocratic in appearance. They are extremely energetic, curious an intelligent, which makes them instrumental in police and military services as well.
With a long head and a muscular body, a Doberman flaunts a short coat which can be dark red, black, fawn or blue in color. Majority of these dogs also have rust-colored marks on their body, tail and face.
So, as far as being friendly is concerned, forget about putting the sign warning people to beware of your dog!
They have a life expectancy of 10 to 12 years. On an average, a male Doberman would be 60 cm tall and weigh 32 kg. Females are shorter in height and weigh less. Doberman pinschers are extremely loyal to their owners. If they are raised along with children, they tend to develop a strong bond with them.
Now that we have brushed your general knowledge up a little, you would have a clearer idea about having a look at our Doberman pinscher puppies for sale in Pune.
Why Consider Our Doberman Pinscher Puppies For Sale?
Treat for the eyes!
Since it is born, a Doberman pinscher is an absolutely treat for the eyes. They are medium to large sized dogs with an athletic and muscular build. Dobermans are fairly tall, but not so huge that they are intimidating.
Along with the athletic physique, their coats are smooth and sleek with different colors, adding to their beauty. If you own a Doberman, you would have a good-looking hunk in your house throughout the day!
A Doberman is Loyal
Doberman pinschers also rank high when it comes to loyalty. Your puppy wouldn't take much time in bond with you and your family after you bring it home. This bond lasts throughout their lives and makes them loyal to you forever.
We're not exaggerating, but a Doberman would be ready to lay down its life in order to save yours! It is one of the few breeds for whom your life matters more to them than their own. Once your Doberman sees you in any kind of trouble, they will be ready to get you out of it until their last breath.
This creates an atmosphere of safety around you as long as you have your pet guardian to look after you!
Doberman pinschers are super-brainy!
Doberman pinschers are the ideal combination of beauty with brains. They belong to the sixth most intelligent breed of dogs, making them smarter than majority of dogs.
They have an increased motivation for learning. This makes them quick learners, whether you want to teach them new commands and instructions to follow. Once acquired, they would rarely forget a skill.
They make excellent exercising buddies!
Doberman is a highly energetic breed. They are always charged up and ready for taxing physical activities. If your daily schedule involves physical exercises such as long jogging, running or hiking, your Doberman would make for a great company!
You can take them with you for long walks and runs, and they will ensure keeping up with you. They are usually so charged up that you might get exhausted before them!
Doberman pinschers love exercising with their owners, which is also a way in which they bond with them.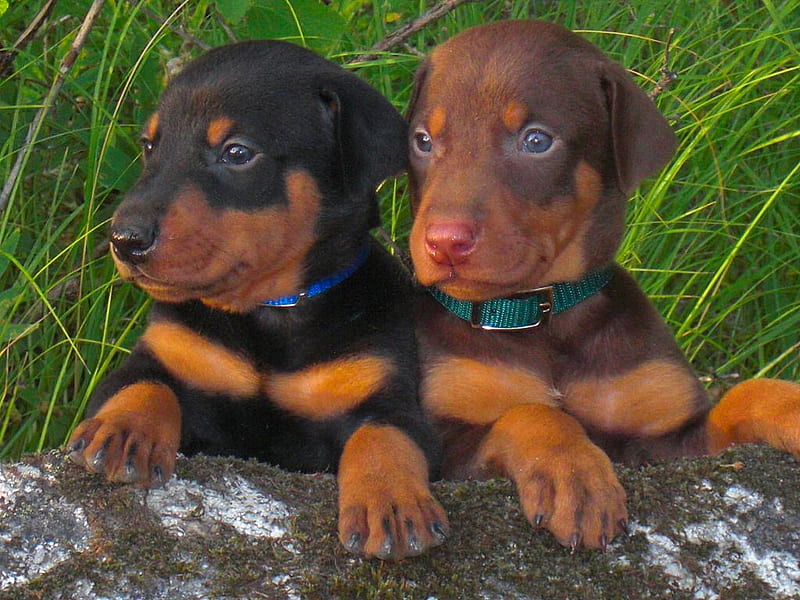 A Doberman is multi-talented
Apart from their impressive learning instincts, memory and intelligence, Doberman pinschers can be useful in more ways than one!
As we already mentioned, Doberman often proves to be useful in the field of police and military, owing to their impeccable senses and intelligence.
Apart from this, they are also useful as blind eye dogs and service animals. They are quite helpful to people who require assistance in their day-to-day activities.
Everyone knows how brilliant a Doberman's instincts are. This adds to the agility provided by their athletic bodies. Having a Doberman at home would also help you (or any of your family members) in your routine, in case you are not physically capable of doing so.
They are supreme protectors!
One of the biggest strengths of Doberman pinschers is the fact that they act as the ultimate guardians for your house.
It is only natural to feel protected by a breed that is used by military and police!
If you have a Doberman within the threshold of your house, every intruder will think twice before breaking. The breed has a natural gift of speed, intelligence and muscle.
All three of these skills would keep you and your house protected from all sorts of threats.
Doberman pinchers are low maintenance
If you think you are required to allocate a significant amount of time and budget for your Doberman pinscher, you might want to reconsider.
Doberman as a breed is fairly low maintenance.
Their coats do not require frequent bathing and tending to. If you are simply brushing them daily with a grooming mitt or a short-bristled brush, it is enough for their coats to stay in good shape.
Such low maintenance nature of Dobermans puts them under the title of "wash and wear" breeds.
Serious Considerations Before Purchasing Doberman Puppies
Before having a look at our Doberman pinscher puppies for sale and taking one home with you, we advise you to consider a few important aspects that might pose a few challenges in tending to them.
Health issues
It is important to be aware about the health issues your pet may encounter before bringing them home.
It is advisable to get a pet insurance done to be on a safe side in case your Doberman puppy encounters health issues. Dobermans are often prone to bloat, which is an adverse digestive condition that could be life-threatening. You should also beware of Hip Dysplasia taking a toll on your pet.
A few Doberman pinschers may also suffer from cardiomyopathy. This is a genetic condition of having an enlarged heart. Another genetic condition your pet might be having is a clotting disorder called von Willebrand's disease.
It is always advisable to consult a pet breeder on a regular basis and a vet in case you feel something is wrong with your otherwise athletic hunk.
Try fostering as a first-time owner
It is advisable to be familiar and comfortable with the tactics of a Doberman before owning the pet. Just like it is important for you to adjust with the pet, it is equally important for a pet to adjust with you.
You can gain this familiarity and comfort by fostering a Doberman and learning more about the breed before you avail our services in buying the puppy.
If you are thorough with all these considerations about keeping Doberman puppy with you, all you need to do is get in touch with us and we will guide you in taking the hunk home!
Do away with the stigma
As an owner of a Doberman, it is important and advisable to do away with the stigma that every Doberman is aggressive and therefore dangerous all the time. Understand that there is no truth in this belief.
Make sure that you do not have this stigma in your mind before you get in touch with us and take a Doberman puppy home. Along with yourself, it is also important to encourage people you know to clear this misconception.
Doberman pinschers can be extremely playful and comfortable with people.
They are a loving and caring breed having a natural stern appearance. Always keep in mind that a Doberman will never harm you as far as you are considerate to them.